*May be shown with additional modifications and/or accessories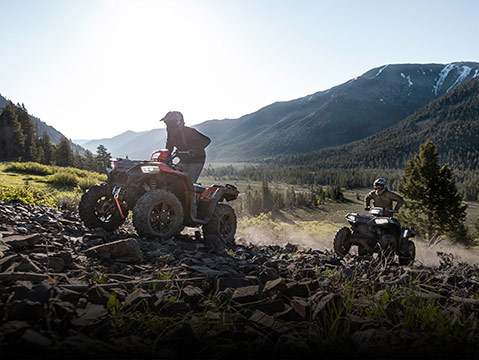 EXPLORE THE SPORTSMAN® 850 LINE-UP
Engineered with improved capabilities, unrelenting power and renowned suspension and handling, the Sportsman 850 delivers superior performance with legendary toughness.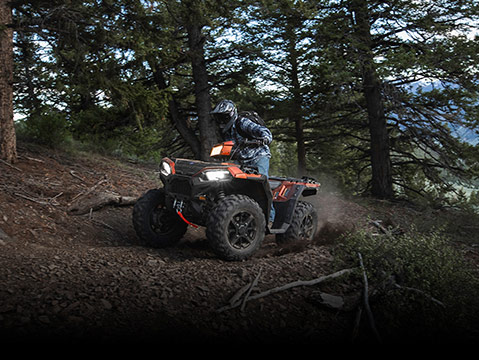 FORGE NEW TRAILS
DURABLE, RELIABLE, BUILT TO LAST
The Sportsman® 850 line up brings you the premium features you want and allows you to ride harder than ever before.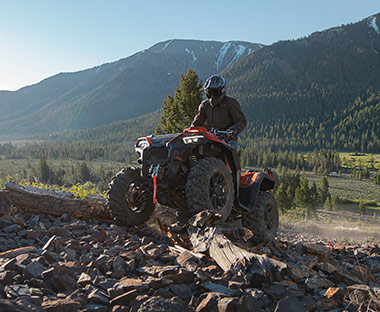 Trail Dominating Ground Clearance
Conquer the trail with ease when you have 11.5" of obstacle-dominating ground clearance.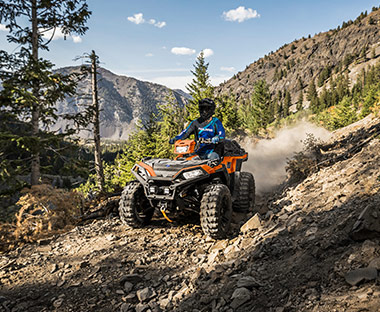 Your Smoothest ATV Ride Yet
Take in the scenery with the Industry's only Rolled Independent Rear Suspension that keeps the machines' vibrations away from the driver so you can enjoy the ride more than ever before.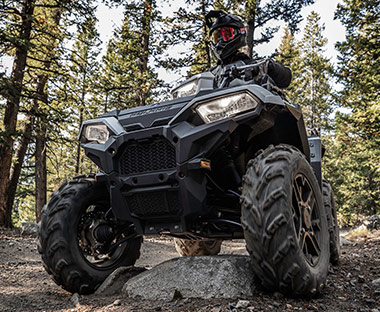 Go Further on 48" Wide ATV
Take your ride further on state regulated trails and be able to easily maneuver around obstacles with the nimble, comfortable, 48" wide ATV.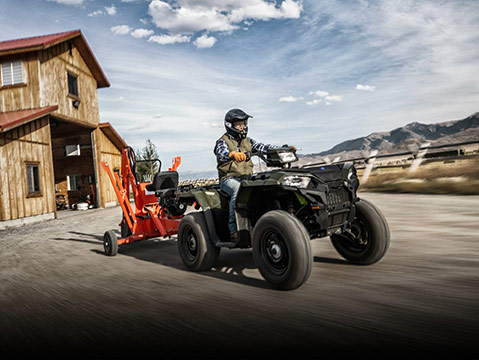 TACKLE ANY TASK OR ANY TRAIL
HARDEST WORKING IN ANY CONDITION
The Sportsman® 850 helps you get the job done by towing more and lasting longer - this machine works harder so you don't have to.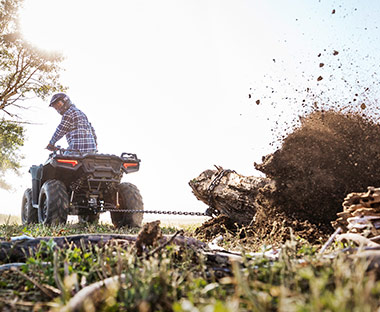 Massive Towing Capacity
Take fewer trips and tackle the biggest jobs with massive 1,500 lb of towing capacity.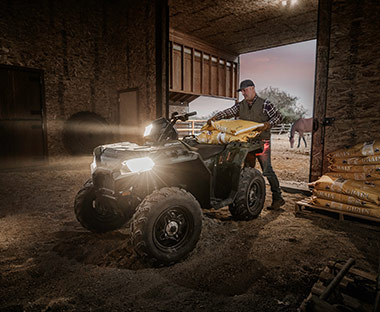 Reliable Through Any Weather
Electronic Fuel Injection (EFI) and the industry's largest, most reliable 30 AH battery keep you going even on the coldest of days.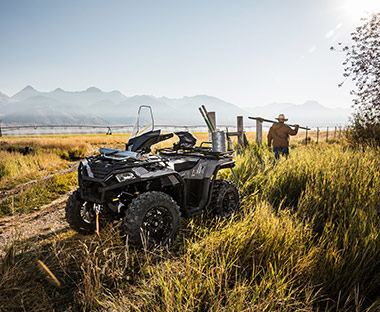 Get The Job Done Right
Take on more with the steel reinforced utility rack system with industry-leading 360 lb capacity and 575 lb in payload capacity.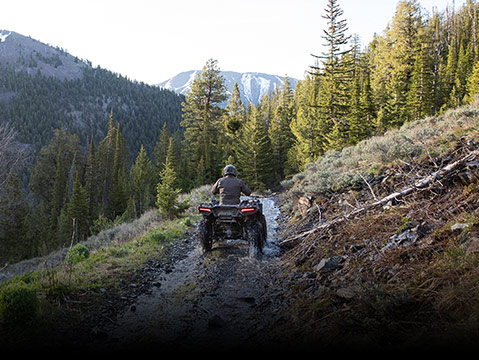 ALL-NEW TRAIL PACKAGE
POLARIS FACTORY CHOICE PACKAGES NOW AVAILABLE
The all-new Factory Choice package delivers true performance for your next big ride. This Trail Package now takes the most capable ATV to the next level with premium features you want.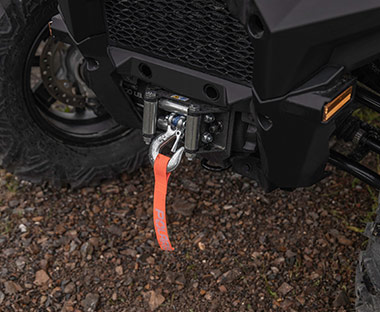 Ultimate Power
Never let your ride come to a halt with a factory installed 3,500 lb winch and handle bar controller.
Superior Vision
Stay out on the trails longer and more confidently with LED accent lighting and low-beam LED headlights.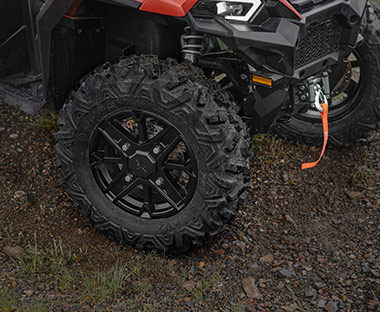 27" Duro Powergrip Tires
All new 27" tires feature an aggressive tread pattern to tackle any terrain, with 14" aluminum wheels.
TAKE YOUR JOURNEY TO THE TOP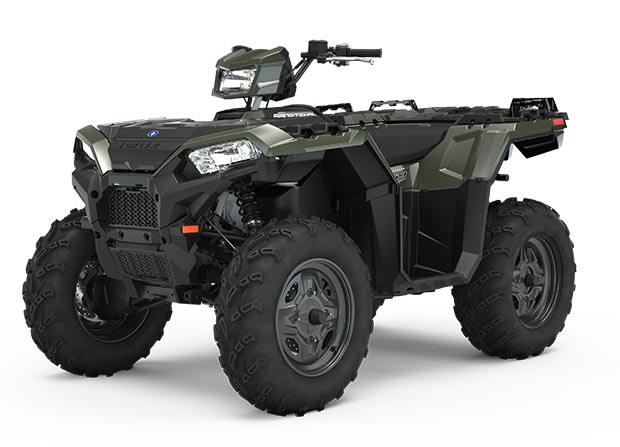 Sportsman® 850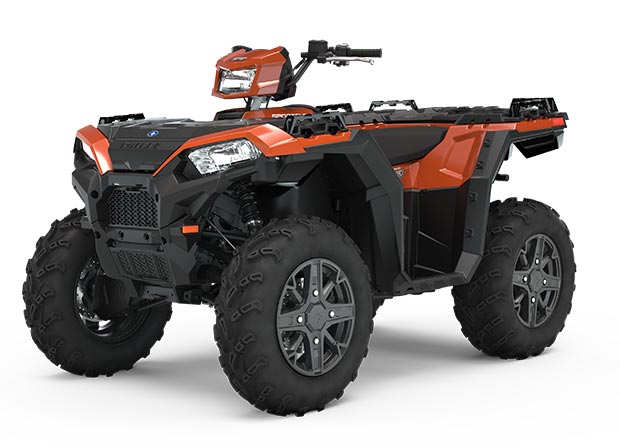 Sportsman® 850 Premium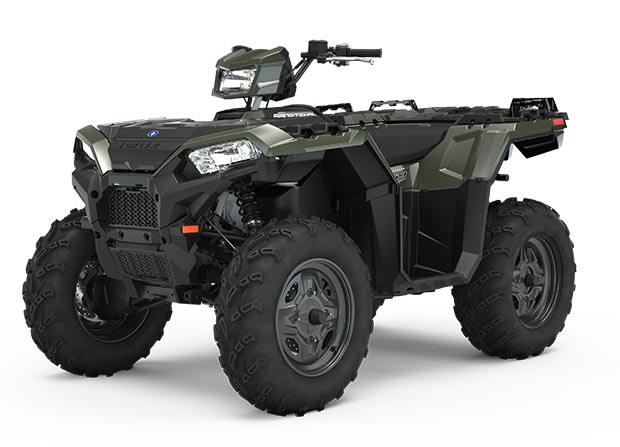 Sportsman® 850


78 HP ProStar Engine
1,500 lb Towing Capacity
575 lb Payload Capacity
True On-Demand All-Wheel Drive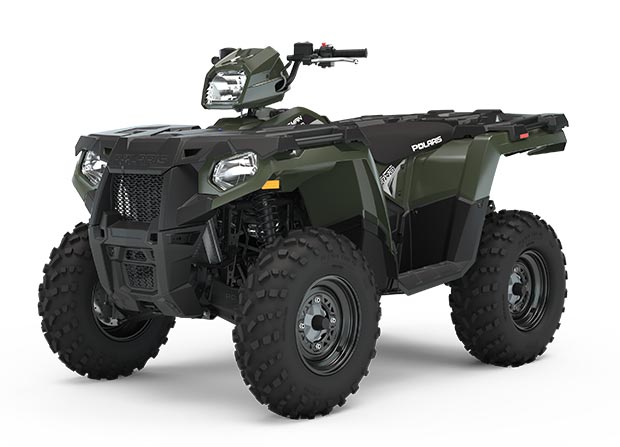 Sportsman® 850 Premium


Automotive Style Paint
26" CST Tires with 14" Cast Aluminum Wheels
Standard Sport Tuned Electronic Power Steering (EPS)
Standard Engine Braking System (EBS) with Active Descent Control (ADC)
High-Performance True On-Demand AWD
4 Modular Rack Extenders with Lock & Ride
Factory-Installed Fender Flares
Specifications
atv
Engine & Drivetrain
Suspension / Brakes / Wheels
Dimensions
Features
Engine type

ProStar SOHC 4-Stroke Twin Cylinder

Cylinders-Displacement (cc)

2 / 850cc

Fuel System

Electronic Fuel Injection

Transmission/Final Drive

Automatic PVT P/R/N/L/H; Shaft Drive

Drive System Type

True On-Demand AWD/2WD

Cooling

Liquid
{$specsTxt_front_shocks}

0

Front Suspension

Straight Dual A-Arm 9 in (22.9 cm) Travel

{$specsTxt_rear_shocks}

0

Rear Suspension

Straight Dual A-Arm, Rolled IRS, 10.25 in (26 cm) Travel

Front / Rear Brakes

Single Lever 3-Wheel Hydraulic Disc with Hydraulic Rear Foot Brake

Parking Brake

Park in Transmission/Lockable Hand Lever

Front Tyres

26 x 8 CST

Rear Tyres

26 x 10 CST

Wheels

14 in Aluminum
Bed Box Dimensions (L x W x H)

N/A

Front/Rear Rack or Box Capacity

120 lb (55 kg)/240 lb (110 kg)

Fuel Capacity

5.25 gal (19.9 L)

Ground Clearance

11.5 in (29 cm)

Overall Vehicle Size (L x W x H)

83.25 x 47.6 x 50.75 in (211.4 x 120.9 x 128.9 cm)

{$specsTxt_payload_capacity}

575 lb (261 kg)

Wheelbase

53 in (134.6 cm)

Estimated Dry Weight

785 lb (357 kg)
Seat Height

37 in (94 cm)

Cargo System

Lock & Ride, 2 Cast Rack Extenders 4 Gal (15 L) Front Dry Storage 2 Gal (8 L) Rear Storage

{$specsTxt_electronic_power_steering}

Standard

Hitch Towing Rating

1,500 lb (680.4 kg)

Hitch/Type

Standard 1.25 in (3.2 cm) Receiver

Instrumentation

All Digital Gauge, Speedometer, Odometer, Tachometer, Two Tripmeters, Hour Meter, Gear Indicator, Fuel Gauge, AWD Indicator, Volt Meter, Coolant Temperature, Hi-Temp Light, Clock, DC Outlet, 6 Rack Extenders

{$specsTxt_lighting}

50w High Beam, Dual 50w Low Beam Headlights

Variants

Off-road
atv
Engine & Drivetrain
Suspension / Brakes / Wheels
Dimensions
Features
Engine type

ProStar SOHC 4-Stroke Twin Cylinder

Cylinders-Displacement (cc)

2 / 850cc

Fuel System

Electronic Fuel Injection

Transmission/Final Drive

Automatic PVT P/R/N/L/H; Shaft Drive

Drive System Type

True On-Demand AWD/2WD

Cooling

Liquid
{$specsTxt_front_shocks}

0

Front Suspension

Straight Dual A-Arm 9 in (22.9 cm) Travel

{$specsTxt_rear_shocks}

0

Rear Suspension

Straight Dual A-Arm, Rolled IRS, 10.25 in (26 cm) Travel

Front / Rear Brakes

Single Lever 3-Wheel Hydraulic Disc with Hydraulic Rear Foot Brake

Parking Brake

Park in Transmission/Lockable Hand Lever

Front Tyres

26 x 8 CST

Rear Tyres

26 x 10 CST

Wheels

14 in Steel
Bed Box Dimensions (L x W x H)

N/A

Front/Rear Rack or Box Capacity

120 lb (55 kg)/240 lb (110 kg)

Fuel Capacity

5.25 gal (19.9 L)

Ground Clearance

11.5 in (29 cm)

Overall Vehicle Size (L x W x H)

83.25 x 47.6 x 50.75 in (211.4 x 120.9 x 128.9 cm)

{$specsTxt_payload_capacity}

575 lb (261 kg)

Wheelbase

53 in (134.6 cm)

Estimated Dry Weight

772 lb (350 kg)
Seat Height

37 in (94 cm)

Cargo System

Lock & Ride, 2 Cast Rack Extenders 4 Gal (15 L) Front Dry Storage 2 Gal (8 L) Rear Storage

{$specsTxt_electronic_power_steering}

Not Equipped

Hitch Towing Rating

1,500 lb (680.4 kg)

Hitch/Type

Standard 1.25 in (3.2 cm) Receiver

Instrumentation

All Digital Gauge, Speedometer, Odometer, Tachometer, Two Tripmeters, Hour Meter, Gear Indicator, Fuel Gauge, AWD Indicator, Volt Meter, Coolant Temperature, Hi-Temp Light, Clock, DC Outlet, 6 Rack Extenders

{$specsTxt_lighting}

50w High Beam, Dual 50w Low Beam Headlights

Variants

Off-road
Images