*May be shown with additional modifications and/or accessories
UNDISPUTED KING OF MUD
Packed with more than 100 consumer-inspired improvements, plus mud-specific features, the RANGER XP® 1000 High Lifter Edition is ready-built for mastering the mud.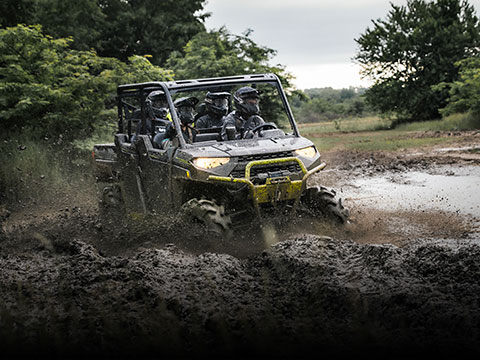 EXTREME DURABILITY
A 20% increase in overall driveline strength and new geared reverse transmission allows for robust durability that will keep you cutting through mud pits all day long.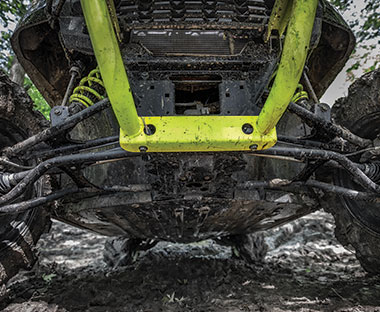 Heavy-Duty Armor
A heavy-gauge full-chassis skid plate protects your RANGER from rocks, stumps, and unforeseen obstacles.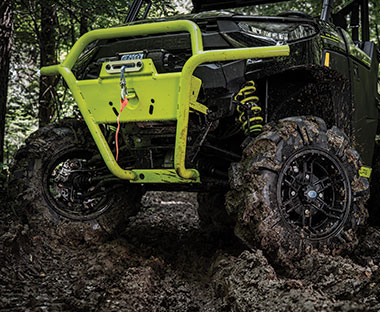 Massive Mud Tires
28"" Outlaw 2 tires, designed by the mud experts with specific tread patterns for mud riding.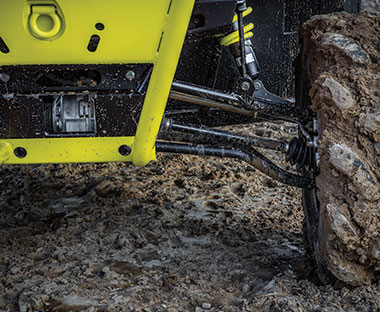 Reach New Heights
Mud specific, high-clearance arched A-Arms creates an incredible 13.5"" of ground clearance.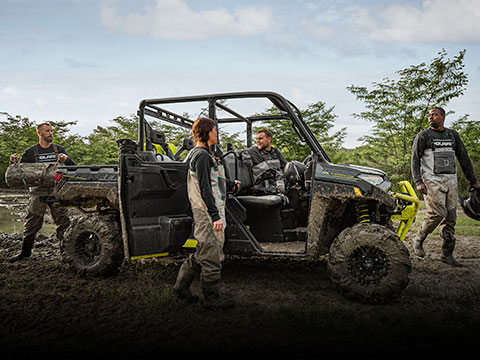 SHOW AND SHINE
Rider-inspired graphics and factory-installed accessories make RANGER XP 1000 High Lifter Edition the ultimate utility mud machine, earning its High Lifter name. This tricked out new look can't be ignored at the mud bogs.
Industry-Exclusive Half-Doors
The premium half doors come with a durable fit and finish and redesigned latching system for easier entry and exit of the cab.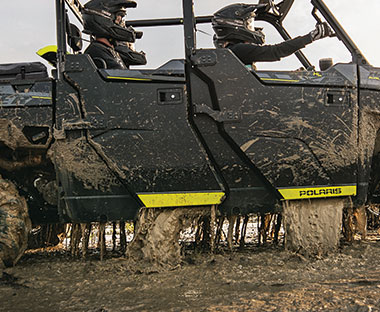 Innovative Drainage Solution
The premium half-doors feature a 1"" drain allowing for quick water and mud evacuation from the cab.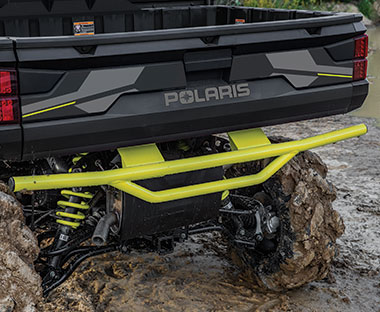 Protection from Front to Back
Factory-installed, purpose-built front and rear bumpers for maximum protection.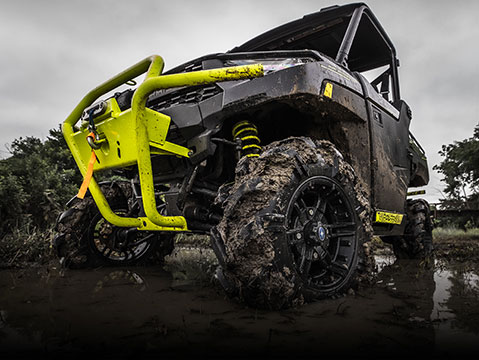 COMFORT REDEFINED
All-new interior design touts ultimate comfort with thicker seats and greater leg room, intuitive driver-centric controls, and abundant, convenient storage through the cab.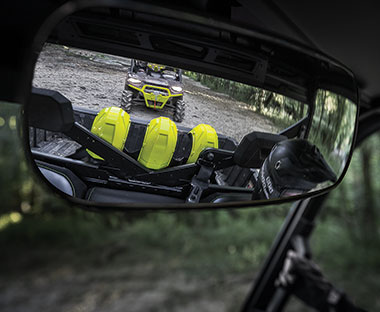 Never Lose Site
Equipped with a standard rear view mirror so you can see the entire crew with every turn.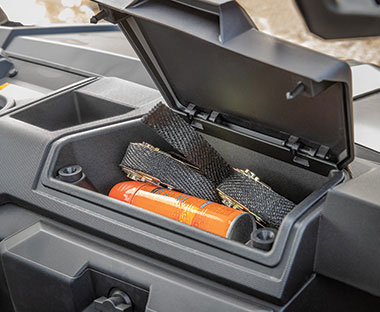 Smarter Dry Storage
New dual glovebox and higher mounted storage compartments to keep smaller items safe through the muddy ride.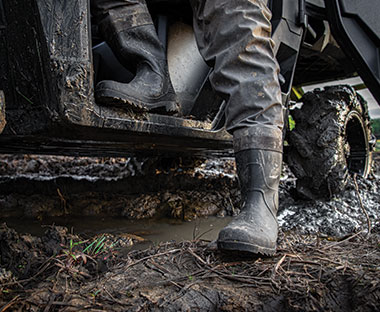 Wader Approved Entry
Easily enter and exit the vehicle with your waders and larger boots with an additional 4 inches of leg room.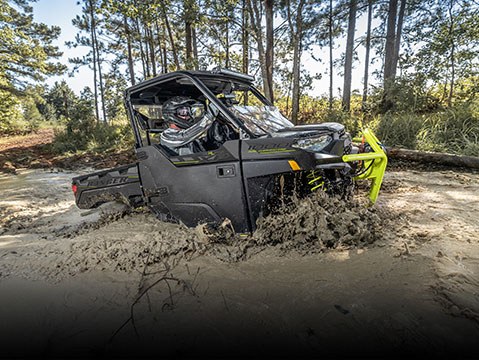 THE NEW STANDARD FOR MUD
RANGER XP 1000 High Lifter Edition sets the new standard for modifications that enables a true mud machine to power through the adventures and unforeseen obstacles.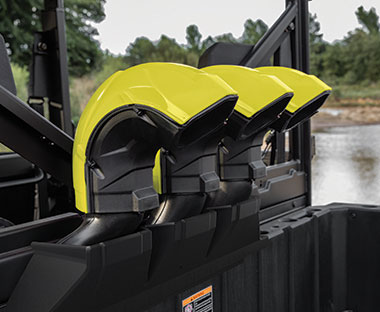 Clean Air Through Muddy Water
Higher-mounted air intakes to ensure clean air reaches the engine and clutches run cool. Plus, all vent lines are integrated into the cab frame to keep them free of debris.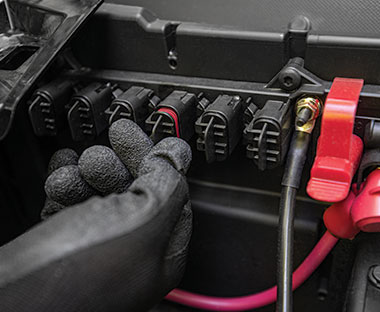 Intelligently Designed
Relocated fuse box higher on the vehicle allowing you to drive in the mud without negatively impacting the electrical system.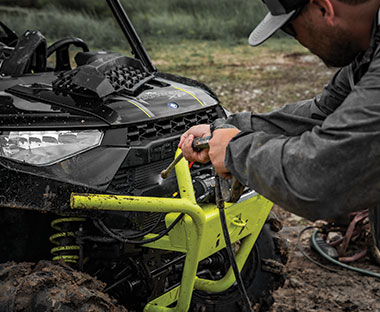 Heavy-Duty Pulling Power
Be ready for anything with the heavy-duty capabilities of a factory-installed Polaris® Pro 4,500 lb HD winch.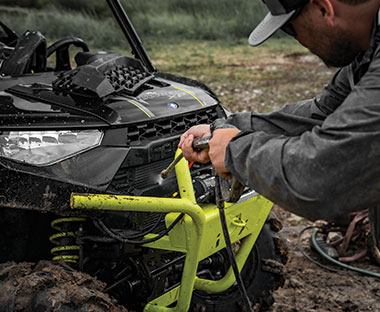 Ready for the Next Mud Pit
After a long day of mudding with friends and family, clean the mud out of nooks in the vehicle easier with the removable front grille.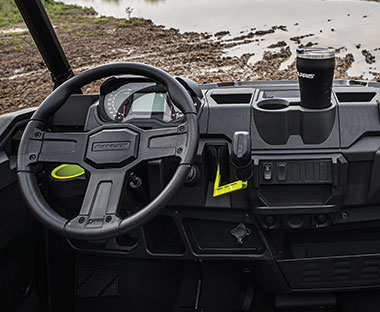 Refined Steering Wheel
Newly designed steering wheel for extreme performance when finding lines in mud bogs.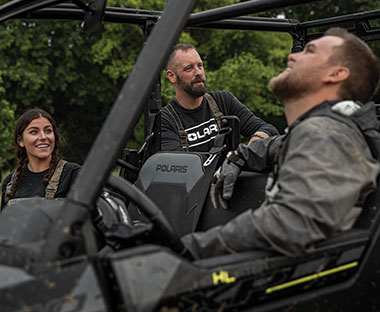 More Cup Holders than Seats
6 large cup holders to fit at least one beverage for each passenger to stay hydrated on long days of mudding.
EXTREME MUD PERFORMANCE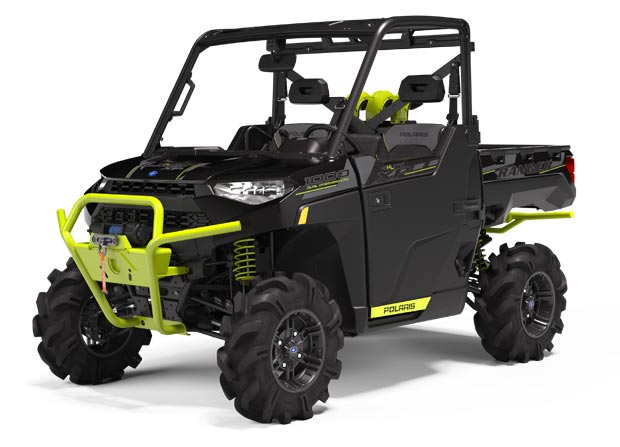 RANGER XP® 1000 High Lifter Edition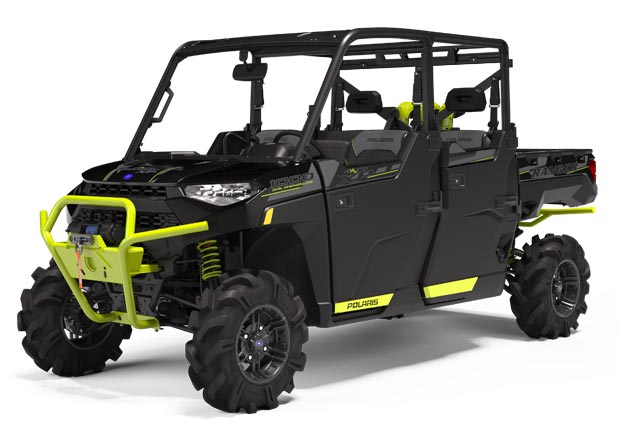 RANGER CREW XP® 1000 High Lifter Edition

Ranger XP® 1000 High Lifter Edition

28"" Outlaw 2 Tires
Arched A-Arms with 13.5"" Ground Clearance
Premium Half Doors with 1"" Water Drains
Mud Specific Front and Rear Bumpers
Higher Mounted Air Intakes
Polaris® Pro 4,500 LB HD Winch with Synthetic Rope
Large Rear View Mirror

RANGER CREW XP® 1000 High Lifter Edition

28"" Outlaw 2 Tires
Arched A-Arms with 13.5"" Ground Clearance
6-Person Seating Capacity
Premium Half Doors with 1"" Water Drains
Mud Specific Front and Rear Bumpers
Higher Mounted Air Intakes
Polaris® Pro 4,500 LB HD Winch with Synthetic Rope
Large Rear View Mirror
Specifications
rgr
Engine & Drivetrain
Suspension / Brakes / Wheels
Dimensions
Features
Engine type

4-Stroke Twin Cylinder DOHC

Cylinders-Displacement (cc)

999 cc

Fuel System

Electronic Fuel Injected

Transmission/Final Drive

Automatic PVT H/L/N/R/P; Shaft

Drive System Type

High Performance On-Demand AWD/2WD

Cooling

Liquid
{$specsTxt_front_shocks}

0

Front Suspension

Independent, Arched Lower A-arms, 11 in (27.9 cm) of Travel

{$specsTxt_rear_shocks}

0

Rear Suspension

Independent, Arched Lower A-arms, 11 in (27.9 cm) of Travel

Front / Rear Brakes

4-Wheel Hydraulic Disc with Dual-Bore Front Calipers

Parking Brake

Park In-Transmission

Front Tyres

28 x 9.5-14; Outlaw 2

Rear Tyres

28 x 11-14; Outlaw 2

Wheels

Cast Aluminum Buckle - Matte Black
Bed Box Dimensions (L x W x H)

36.75 x 54.25 x 12.5 in (93.3 x 137.8 x 31.75 cm)

Front/Rear Rack or Box Capacity

1,000 lb (454 kg)

Fuel Capacity

11.5 gal (43.5 L)

Ground Clearance

13.5 in (34.3 cm)

Overall Vehicle Size (L x W x H)

122 x 65 x 78 in (310 x 165 x 198 cm)

{$specsTxt_payload_capacity}

1,525 lb (692 kg)

Wheelbase

113 in (287 cm)

Estimated Dry Weight

2,116 lb (960 kg)
Cargo System

Lock & Ride®

{$specsTxt_electronic_power_steering}

Standard

Hitch Towing Rating

2,500 lb (1,133.9 kg)

Hitch/Type

Standard 2 in (5 cm) Receiver

Instrumentation

Dual-sweep Analog Dials w/ 4" LCD Rider Information Center: User Selectable Blue/Red Backlighting & Brightness, Programmable Service Intervals, Speedometer, Tachometer, Odometer, Tripmeter, Clock, Hour Meter, Gear Indicator, Fuel Gauge, Coolant Temperature, Voltmeter, Service Indicator and Codes, Seat Belt Reminder, DC Outlet, Premium Half Doors w. 1" Drains, Mud Specific Front and Rear Bumpers, Polaris(R) PRO HD 4,5000 Lb. Winch, Rearview Mirror, Polaris Pulse Electrical System (6 position)

{$specsTxt_lighting}

55W low/ 60W high

Variants

Off-road
rgr
Engine & Drivetrain
Suspension / Brakes / Wheels
Dimensions
Features
Engine type

4-Stroke Twin Cylinder DOHC

Cylinders-Displacement (cc)

999 cc

Fuel System

Electronic Fuel Injected

Transmission/Final Drive

Automatic PVT H/L/N/R/P; Shaft

Drive System Type

High Performance On-Demand AWD/2WD

Cooling

Liquid
{$specsTxt_front_shocks}

0

Front Suspension

Independent, Arched Lower A-arms, 11 in (27.9 cm) of Travel

{$specsTxt_rear_shocks}

0

Rear Suspension

Independent, Arched Lower A-arms, 11 in (27.9 cm) of Travel

Front / Rear Brakes

4-Wheel Hydraulic Disc with Dual-Bore Front Calipers

Parking Brake

Park In-Transmission

Front Tyres

28 x 9.5-14; Outlaw 2

Rear Tyres

28 x 11-14; Outlaw 2

Wheels

Cast Aluminum Buckle - Matte Black
Bed Box Dimensions (L x W x H)

36.75 x 54.25 x 12.5 in (93.3 x 137.8 x 31.75 cm)

Front/Rear Rack or Box Capacity

1,000 lb (454 kg)

Fuel Capacity

11.5 gal (43.5 L)

Ground Clearance

13.5 in (34.3 cm)

Overall Vehicle Size (L x W x H)

122 x 65 x 78 in (310 x 165 x 198 cm)

{$specsTxt_payload_capacity}

1,500 lb (680.4 kg)

Wheelbase

81 in (206 cm)

Estimated Dry Weight

1,773 lb (804 kg)
Cargo System

Lock & Ride®

{$specsTxt_electronic_power_steering}

Standard

Hitch Towing Rating

2,500 lb (1,133.9 kg)

Hitch/Type

Standard 2 in (5 cm) Receiver

Instrumentation

Dual-sweep Analog Dials w/ 4" LCD Rider Information Center: User Selectable Blue/Red Backlighting & Brightness, Programmable Service Intervals, Speedometer, Tachometer, Odometer, Tripmeter, Clock, Hour Meter, Gear Indicator, Fuel Gauge, Coolant Temperature, Voltmeter, Service Indicator and Codes, Seat Belt Reminder, DC Outlet, Premium Half Doors w. 1" Drains, Mud Specific Front and Rear Bumpers, Polaris(R) PRO HD 4,5000 Lb. Winch, Rearview Mirror, Polaris Pulse Electrical System (6 position)

{$specsTxt_lighting}

55W low/ 60W high, LED Tail

Variants

Off-road
Images