*May be shown with additional modifications and/or accessories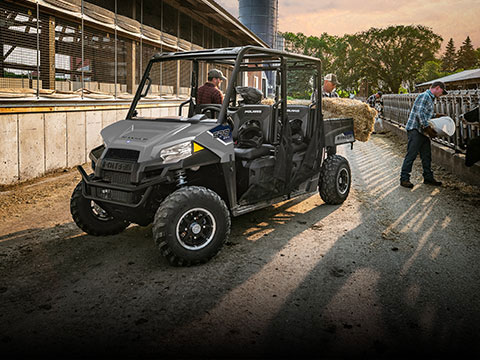 BEST-IN-CLASS 4-PERSON SxS VALUE
The RANGER CREW® 570-4 delivers the legendary hardest working value, performance and quality you expect, plus refined comfort for 4 riders.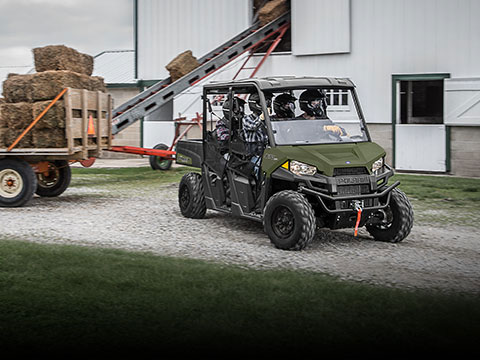 READY TO WORK DAY & NIGHT
The RANGER CREW® 570-4 is designed with powerful headlights, so you can work before dawn or after dusk. Utilize these lights to get a head start on the hunt early in the morning.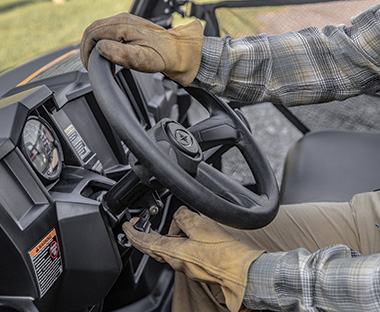 Adjustable Tilt Steering
Utilize the adjustable tilted steering to easily enter and exit the vehicle.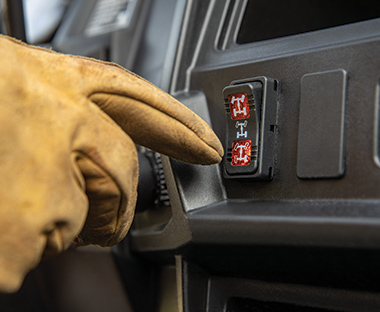 VersaTrac Turf Mode
Unlocks the rear differential for easier and tighter turns that won't tear up your yard.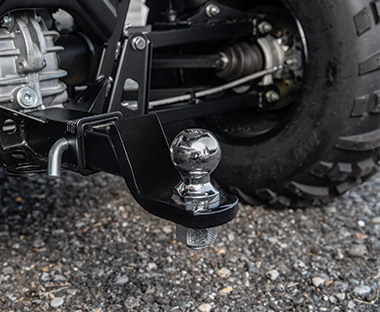 Standard 2" Receiver Hitch
Connect your trailer to your RANGER with the standard 2" receiver and maximize the impressive 1,500 lb towing capacity.
4-PERSON UTILITY SxS AT AN UNBEATABLE PRICE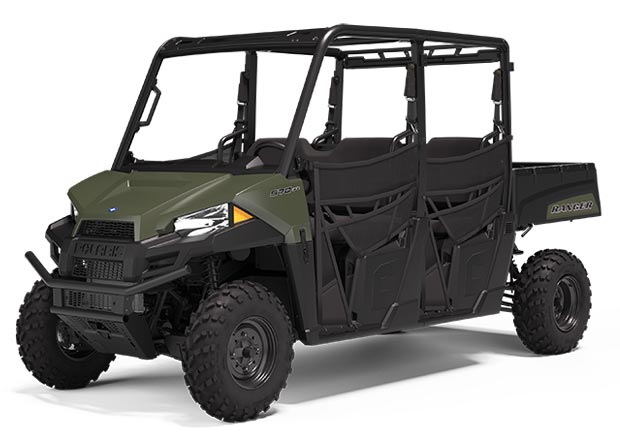 Ranger® Crew 570-4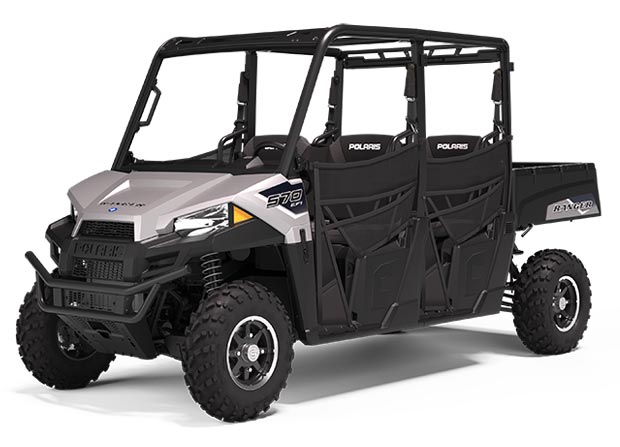 Ranger® Crew 570-4 Premium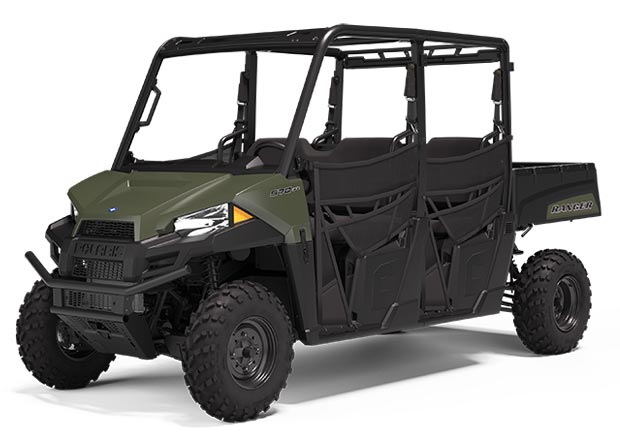 Ranger® Crew 570-4


44 HP
567cc ProStar® 570 Engine
25"" 489 Tires
Stamped Steel Wheels
4-Person Seating Capacity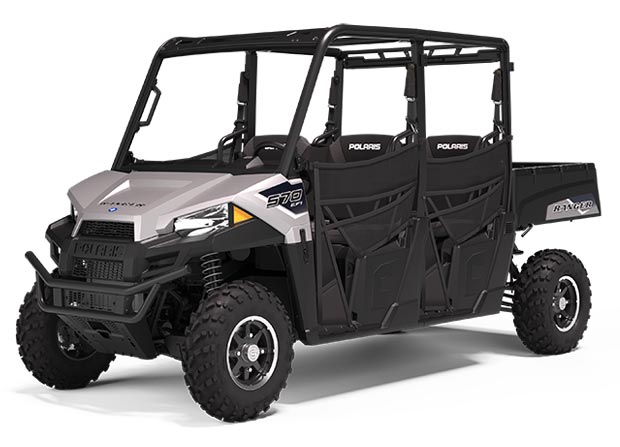 Ranger® 570 EPS

44 HP
25"" 489 Tires
567cc ProStar® 570 Engine
4-Person Seating Capacity
Electric Power Steering
Automotive Style Paint
Specifications
rgr
Engine & Drivetrain
Suspension / Brakes / Wheels
Dimensions
Features
Engine type

4-Stroke Single Cylinder DOHC

Cylinders-Displacement (cc)

567 cc

Fuel System

Electronic Fuel Injection

Transmission/Final Drive

Automatic PVT H/L/N/R/P; Shaft

Drive System Type

On-Demand True AWD/2WD/VersaTrac Turf Mode

Cooling

Liquid
{$specsTxt_front_shocks}

0

Front Suspension

MacPherson Strut 9 in (22.9 cm) Travel

{$specsTxt_rear_shocks}

0

Rear Suspension

Dual A-Arm, IRS 10.0 in (25.4 cm) Travel

Front / Rear Brakes

4-Wheel Hydraulic Disc with Dual-Bore Front Calipers

Parking Brake

Park In-Transmission

Front Tyres

25 x 10 -12; 489

Rear Tyres

25 x 10-12; 489

Wheels

Aluminum Black Xcelerator
Bed Box Dimensions (L x W x H)

32 x 42 x 11.5 in (81 cm x 107 cm x 29 cm)

Front/Rear Rack or Box Capacity

N/A lb / 500 lb (N/A kg / 226.8 kg)

Fuel Capacity

9 gal (34.1 L)

Ground Clearance

10 in (25.4 cm)

Overall Vehicle Size (L x W x H)

142 x 60 x 73 in (361 x 152 x 185 cm)

{$specsTxt_payload_capacity}

1,250 lb (567 kg)

Wheelbase

105 in (266.7 cm)

Estimated Dry Weight

1351.24 lbs (614 kg)
Cargo System

Lock & Ride®

{$specsTxt_electronic_power_steering}

Not Equipped

Hitch Towing Rating

1,500 lb (680.4 kg)

Hitch/Type

Standard 2 in (5 cm) Receiver

Instrumentation

Single Analog Dial with 2" LCD Rider Information Center, Speedometer, Tachometer, Odometer, Tripmeter, Clock, Hour Meter, Gear Indicator, Fuel Gauge, Coolant Temperature, Volt Meter, Service Indicator and Codes, Seatbelt Reminder Light, DC Outlet

{$specsTxt_lighting}

50W Headlight, LED Tail

Variants

Off-Road
rgr
Engine & Drivetrain
Suspension / Brakes / Wheels
Dimensions
Features
Engine type

4-Stroke Single Cylinder DOHC

Cylinders-Displacement (cc)

567 cc

Fuel System

Electronic Fuel Injection

Transmission/Final Drive

Automatic PVT H/L/N/R/P; Shaft

Drive System Type

On-Demand True AWD/2WD/VersaTrac Turf Mode

Cooling

Liquid
{$specsTxt_front_shocks}

0

Front Suspension

MacPherson Strut 9 in (22.9 cm) Travel

{$specsTxt_rear_shocks}

0

Rear Suspension

Dual A-Arm, IRS 10.0 in (25.4 cm) Travel

Front / Rear Brakes

4-Wheel Hydraulic Disc with Dual-Bore Front Calipers

Parking Brake

Park In-Transmission

Front Tyres

25 x 10 -12; 489

Rear Tyres

25 x 10-12; 489

Wheels

Stamped Steel
Bed Box Dimensions (L x W x H)

32 x 42 x 11.5 in (81 cm x 107 cm x 29 cm)

Front/Rear Rack or Box Capacity

N/A lb / 500 lb (N/A kg / 226.8 kg)

Fuel Capacity

9 gal (34.1 L)

Ground Clearance

10 in (25.4 cm)

Overall Vehicle Size (L x W x H)

142 x 60 x 73 in (361 x 152 x 185 cm)

{$specsTxt_payload_capacity}

1,250 lb (567 kg)

Wheelbase

105 in (266.7 cm)

Estimated Dry Weight

1,326 lb (601.4 kg)
Cargo System

Lock & Ride®

{$specsTxt_electronic_power_steering}

Not Equipped

Hitch Towing Rating

1,500 lb (680.4 kg)

Hitch/Type

Standard 2 in (5 cm) Receiver

Instrumentation

Single Analog Dial with 2" LCD Rider Information Center, Speedometer, Tachometer, Odometer, Tripmeter, Clock, Hour Meter, Gear Indicator, Fuel Gauge, Coolant Temperature, Volt Meter, Service Indicator and Codes, Seatbelt Reminder Light, DC Outlet

{$specsTxt_lighting}

50W Headlight, LED Tail

Variants

Off-Road
Images